Aside from different branches opened within Metro Manila, another NaiCha Milk Tea Opens at Banawe QC Yesterday June 15, 2012.
I was invited to grace the event and talk to the owners and Milk Tea lovers out there.
The Ribbon Cutting was Spearheaded by Ms Josephine Chua, NaiCha proprietress and CEO of Grand Pillar Intl Devt Inc.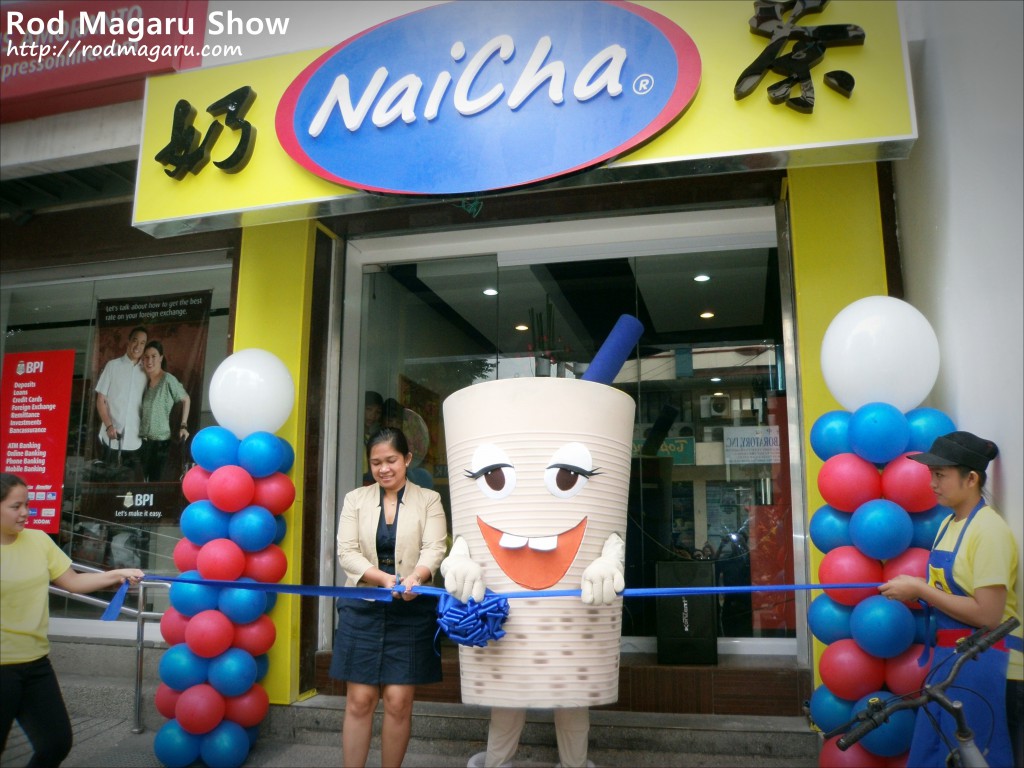 NaiCha Milk Tea started selling its ice-blended milk tea with gummy jelly pearls for the first time in December 2010 from its main store located across Royal Duty Free Mall.
The store in Banawe has a second floor and has a free internet kiosk.
Their Milk Tea Sizes are cool! Check the 32oz which only cost 120 bucks!
Surprisingly, it became a favorite not only by Subic residents alone, but also with tourists visiting the mall during weekends and holidays. Regular visitors to Subic would always drop by the main store to have a taste of the ice-cold beverage on their journey home.
On October 2011, NaiCha was brought to Manila with the opening of its first store on N. Domingo St., Quezon City. Since then two more stores were opened along with 8 kiosks scattered between Subic and Manila.
New stores in Metro Manila will be opened in the 2nd quarter of 2012 while plans to open more stores in Bagiuo, Alabang and Davao are under negotiations.
NaiCha productscome in a variety of flavors to satisfy anyone's thirst. From our tea-based drinks or juices and a selections of add-ons, customers can customize their own drinks. Some of them were:
Black Tea
Jasmine Green Tea
Authentic Taiwan Oolong Tea
Honey Green Tea
Yakult Green Tea
Matcha
NaiCha Specials
Signature Taiwan Naicha
Green Tea Naicha
Original Oolong Naicha
Coffee Naicha
Choco Naicha
Sweet Naicha
Wintermelon Latte
Toothie Fruity Juice
Honey Water
Honey Lemon
Kiwi Juice
Lychee Juice
Lemon Juice
Grape Juice
Kiwi Yakult
Lychee Yakult
Lemon Yakult
Grapefruit Yakult
Wintermelon
Come! Visit Naicha Banawe Branch its in front of North Park and Beside BPI and Icebergs! As of Yesterday, here are some of new NaiCha outlets:
Marikina (Unit 105 Guerdon Commercial Center, Katipunan cor Rainbow Sts., SSS Village, Concepcion Dos, Marikina City, 02 794 8768);
Ortigas (4th Floor, Philippine Stock Exchange, Center East Tower Building, Exchange Road, Ortigas Center, Pasig City)
Makati (StarTek Office, Ground Floor, SM Cyberzone Building, Buendia Ave., Makati City)
And truly with Naicha, Tea Never Tasted this good!