I have been a GCASH user since 2013 and remember my crazy online shopping using my GCASH AMEX? It happened again last weekend. Well, not the usual online shopping revolution but more like a card less transaction this time at Glorietta Mall.  Actually, I started my weekend knowing that GCash partners up with Glorietta to enable QR-based mobile payments in a mall-wide sale – a first in the Philippines dubbed as #GDay!
When I entered Glorietta Mall, I saw a lot of GCASH stations everywhere ready to assist a lot of new users. I took the opportunity to shop that weekend using GCASH since I wasn't able to shop for clothes on my recent trips in LA as I was busy roaming around. Speaking of roaming, read my latest #Rodtrips and how I saved enough from roaming HERE.
Back to shopping, Glorietta Madness Sale was indeed memorable because we enjoyed so many brands offering up to 80% discount. I have learned that other than the straight forward discounts on selected stores, Glorietta hold raffle and flash sale every hour to further offer only the best deals in town.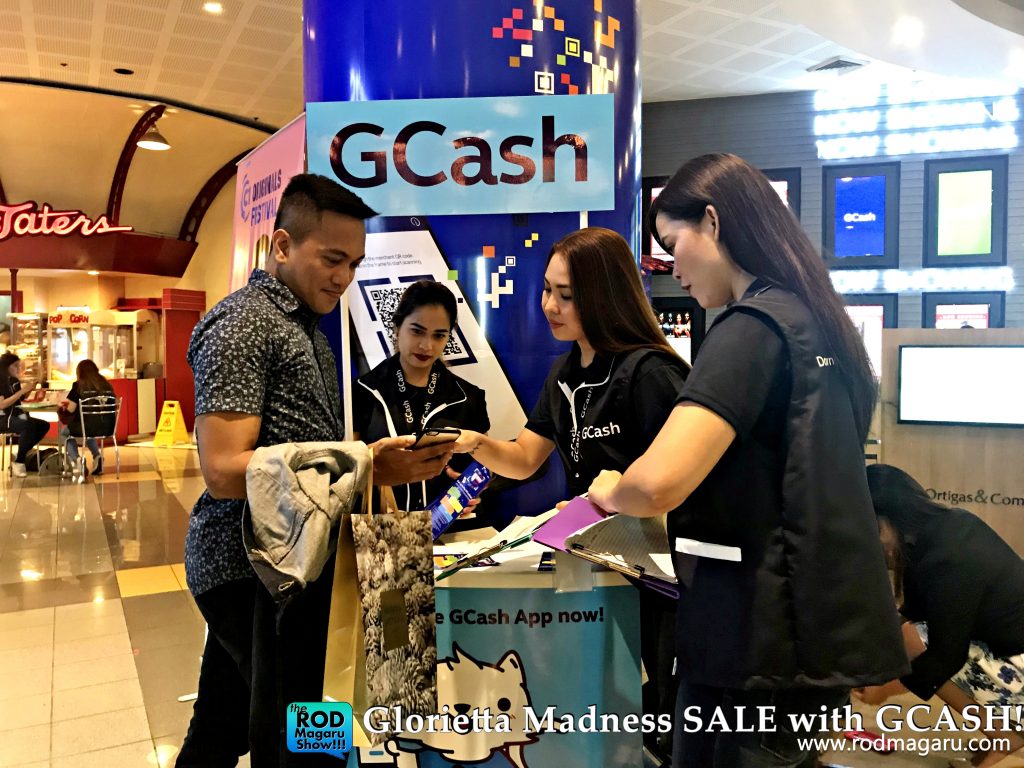 With Star Magic artist Michelle Vito, we went first to Marks & Spencer to check the latest trends there but since me and Michelle are sucker for sweets, we straight ahead to that particular area and we ended up buying chocolates and special confectioneries! Photo below courtesy of Manila bulletin.
Its #GDay Christmas Madness Sale at Glorietta! Enjoy a hassle free shopping with your GCash. Scan, pay and get a 20% cashback from participating merchants from November 11-12,2017. #GCashMoNaYan pic.twitter.com/DkFUZChtiE

— Manila Bulletin News (@manilabulletin) November 11, 2017
Too many participating merchants here at Glorietta. GET 20% Cashback til tomorrow when you pay/scan using GCASH APP! Ang saya! #GcashMoNaYan @enjoyGLOBE pic.twitter.com/sAG8QsxUFz

— Rod Magaru (@rodmagaru) November 11, 2017
I remember recently, Alibaba Group Chairman Jack Ma also graced Glorietta to experience GCash's QR code transaction. We also tried and bought frosty and fries at Wendy's as they are also QR-enabled store in Glorietta!
Through the scan to pay feature of the GCash App, customers can use their GCash account to pay for goods and services by simply scanning QR codes displayed by merchants and establishments.  Glorietta is the first Ayala Mall to support QR code purchases made thru GCash.
Photo by my blogger friend Trice Nagusara who happened to equally enjoyed that saturday with GCASH!
Also, we found a station where we can load up our GCASH account as we ran out of balance. It is as easy as paying for your MRT cards. Thanks to Manila Bulletin for capturing our afternoon shopping!
The highlight of our shopping was the CASHBACK from GCash! Yup, for every spending we did, a 20% from the total purchase amount were credited back to our account!
What I really like about GCASH transaction is that it is fast and convenient. I never had any problem with it in terms of settling my dues and bills. Filipinos can join the cashless movement by downloading the GCash App for free on the App store or the Google Playstore. Once installed, they must register for an account and cash-in to over 12,000 GCash Partner Outlets nationwide to start using GCash. Expect more #GDay events as GCash rolls out the QR code payment solution across other Ayala Malls in the country. Oops this weekend Trinoma is the place to go to shop!
Learn more about GCash by visiting www.gcash.com. Follow us on our social media channels: www.facebook.com/gcashofficial, www.twitter.com/gcashofficial, and www.instagram.com/gcashofficial.