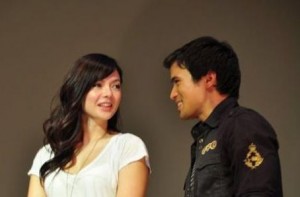 I have attended both of Sam Milby and Marie Digby Press launch of their respective album and there's one song in their album that fans will surely love. Its entitled YOUR LOVE.
Digby is recognized on YouTube for her simple popular music covers, as well as her original compositions. She has over 290,000 subscribers and her channel has been viewed over 7 million times. Her videos have amassed over 102 million views, the most popular being a cover of "Umbrella" by Rihanna, which has gained over 20 million views.
WATCH THE VIDEO HERE:

 
Your Love
I can never find the words to describe what you do to me
If i did it would sound like a hundred symphonies
The sun would descend from the sky
Just to see who stole all his light and glory
You and me don't you see
We could change all of history
Your love, your love your love, is all that I need
Your love your love your love so honey stay right here with me
Your touch, your smile, your kiss, your heart is lighting me up
Your love your love, is all that I need..
I remember walking with you on that April night
I was cold and you knew it so you asked me if I'm alright
Then you reached for my hand
Held it tightly in yours
And neither of us could say a thing
But the look on your face
To me, it meant everything