I was actually planning on making a Vlog review so I don't drain myself from writing a long blog. But I ended up a finishing a draft for Youtube and made it a full movie blog.
Hello Love Goodbye is a story of a young contract workers in Hongkong. Lead by Kathryn Bernardo & Alden Richards, the film also stars Maymay Entrata, Kakai Bautista, Lovely Abella, Joross Gamboa, Jameson Blake, Jeffrey Tam, Lito Pimentel, Maricel Laxa and Anthony Jennings and directed by Cathy Garcia-Molina and written by Carmi Raymundo.



Joy (Kathryn), a domestic helper met and Bar tended Ethan (Richards), that is torn between making a connection and surviving in a country where they push themselves to the limit to earn and provide something for their families.
First, let's watch again the trailer.

The movie is a roller-coaster ride. Funny & relatable, it is also a story of declaring war to oneself that makes you reflect on your own. There were moments when you will laugh your heart out endlessly then cradles you to those painful scenes.
To compliment Molina in this material is an understatement. For me she recognized the potential of an OFW story as the core and strength of the film and focused on its surprisingly sad demographics –that is way younger compared to the story any Filipino films told five or ten years ago. Surprisingly, she shun away from a story of demonic employers and instead gave us a strict yet emphatic generation. Maybe they changed?
Watching this film made me remember the 2016 Metro Manila Film Fest Entry, "Sunday Beauty Queen" wherein Villarama (Director) tackles the life of domestic helpers joining and organizing a beauty pageants to enjoy themselves during their off. It was one of the wonderful documentation of an OFW lives we never thought we'll see.
During the Blogger's conference with Director Cathy Garcia Molina and the cast, they talked about the struggle of shooting outside the country, especially the challenges in rolling their cameras from a place where everyone loves film-making and celebrities. What I saw was the brave attempt to reflect the real situation of the swarming diaspora of our own Domestic helpers of today. Central Hongkong will always be the face of overseas contract workers (OCWs).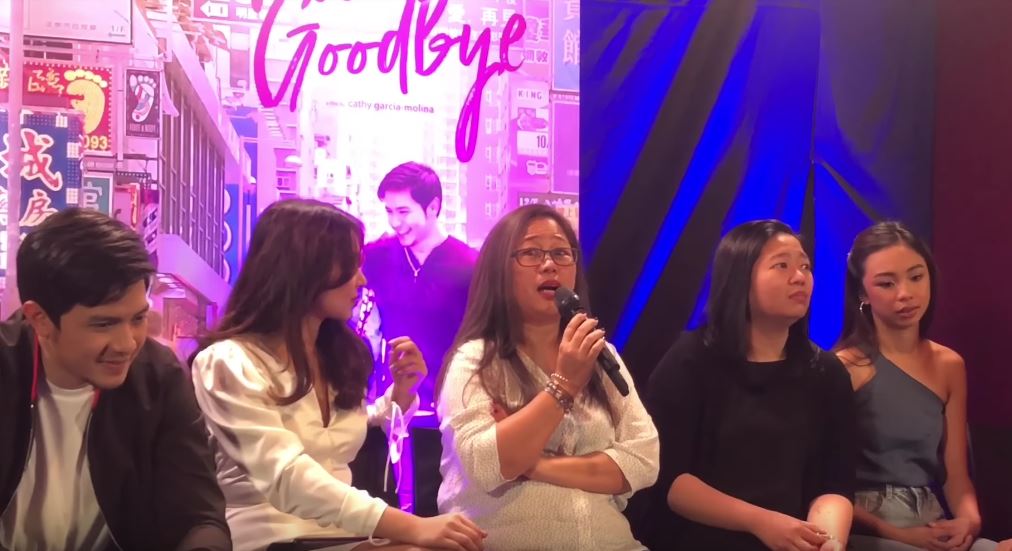 Kathryn. Oh my dear Kathryn. How can you be that excellent without batting an eyelash. Your timing is on point, your execution, how you engineered a role, is more than convincing from afar. As your character Joy, the way you look, talk, your subtle expression of pain from within, the way you move, the way you show self yet sweet rebellion –all these took away the Kathryn I know as celebrity.
I have mentioned some unfavorable reviews of Alden in his recent movies but playing Ethan in this film, he moved me to my chair. He delivered that requirements. He exemplary excelled. He made me believe. Alden made me see Ethan.
What is a wonderful plot without an effective supporting cast. Cacai, Lovely especially Maymay accepted the challenge and it was a satisfying sight to complete that believable timeline. Their comedic timings are smooth yet made me feel validated – that sometimes, behind our joys and celebrations hide a strong, lonely minds waiting to explode. And did I mention Maricel Laxa? She was never forgotten. Always at par.
The movie has a smooth transition from conflict to its build up though I consciously noticed it is quite long that I have to look at my watch twice. There were blurry drone shots.  And some scenes I felt too much in trying to make it look more romantic but that's just me. Nevertheless, it triumphed in getting to the bottom-line of the story. It ended with a promise. It ended with a hope.
My overall rating 9/10.
Hello Love Goodbye is graded A unanimously by Cinema Evaluation Board (CEB). It opens in more than 350 cinemas nationwide.
WATCH: HELLO LOVE GOODBYE BLOGGERS CONFERENCE
WATCH: HELLO LOVE GOODBYE PREMIERE NIGHT